Home > Profile > nicotate > Ratings
nicotate's lists - Books I Want to Read (3 books)
11/22/63 is a novel by Stephen King about a time traveller who attempts to prevent the assassination of United States President John F. Kennedy, which occurred on November 22, 1963 (the novel's titular date). It is the 60th book published by Stephen King, his 49th novel and the 42nd under his own name. The novel was announced on King's official site on March 2, 2011. A short excerpt was released online on June 1, 2011, and another excerpt was published in the October 28, 2011, issue of Entertainment Weekly. The novel was published on November 8, 2011 and quickly became a number-one bestseller. It stayed on The New York Times Best Seller list for 16 weeks. 11/22/63 won the 2011 Los Angeles Times Book Prize for Best Mystery/Thriller and the 2012 International Thriller Writers Award for Best Novel, and was nominated for the 2012 British Fantasy Award for Best Novel[8] and the 2012 Locus Award for Best Science Fiction Novel.
The Shining is a 1977 horror novel by American author Stephen King. It is King's third published novel and first hardback bestseller; its success firmly established King as a preeminent author in the horror genre. The setting and characters are influenced by King's personal experiences, including both his visit to The Stanley Hotel in 1974 and his struggle with alcoholism. The book was followed by a sequel, Doctor Sleep, published in 2013. The Shining centers on the life of Jack Torrance, a struggling writer and recovering alcoholic who accepts a position as the off-season caretaker of the historic Overlook Hotel in the Colorado Rockies. His family accompanies him on this job, including his young son Danny Torrance, who possesses "the shining", an array of psychic abilities that allow Danny to see the hotel's horrific past. Soon, after a winter storm leaves them snowbound, the supernatural forces inhabiting the hotel influence Jack's sanity, leaving his wife and son in incredible danger. ---------- Also contained in: - [Carrie / Night Shift / 'Salem's Lot / Shining](https://openlibrary.org/works/OL14917547W) - [Works (Danse Macabre / Salem's Lot / Shining)](https://openlibrary.org/works/OL24233994W)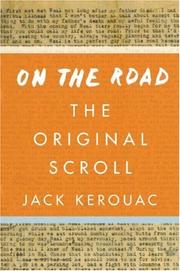 Described as everything from a "last gasp" of romantic fiction to a founding text of the Beat Generation movement, this story amounts to a nonfiction novel (as critics were later to describe some works). Unpublished writer buddies wander from coast to coast in search of whatever they find, eager for experience. Kerouac's spokesman is Sal Paradise (himself) and real-life friend Neal Casady appears as Dean Moriarty.